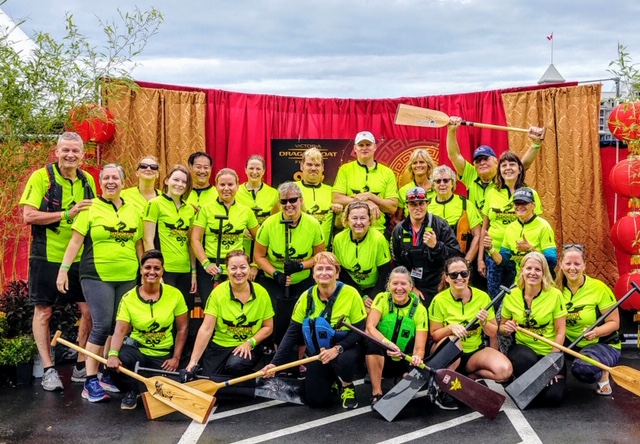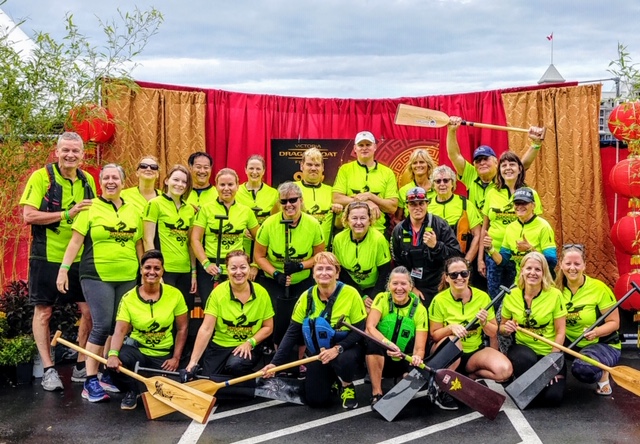 Coach:
Captain:
Managers/Executive:
Tracey-Lee Chupick, Anne Orieux, Miila Pullan
Team goals and a brief description of what our team is all about:
Snogard Dragons is an all-ages, men's and women's team. Known for our neon yellow shirts and even brighter personalities, Snogard Dragons have been paddling since 2004. We pride ourselves on having great team chemistry. We are optimistic, encouraging, positive, and always think of our team first. We have fun on and off the water, however we still paddle hard and work to improve our technique. Our goal at each festival is to win in our division.
Our motto is: "22 Hearts and One Soul"
Dragons is the mirror image of Snogard (we're kind of clever as well as fun). If you're lucky, you can catch us on the water and see us "Snogard" the boat. Curious?
Practice Times:
Tuesdays and Thursdays from 6:30 pm to 8:30 pm. Warm-up begins on the dock at 6:30 pm and we are on the water at 7:00pm.
2020 Season Races:
FGPC Super Sprints (May 24)
FGPC Fairway Gorge Festival (June 13)
Nanaimo Dragon Boat Festival (July 10-12)
Victoria Dragon Boat Festival (August 7-9)
Recruiting:
Snogard Dragons always welcome fun paddlers who want to be a part of a great team environment and paddle hard (and also who look good in neon yellow!)
Contact the club for the team's phone and email information.