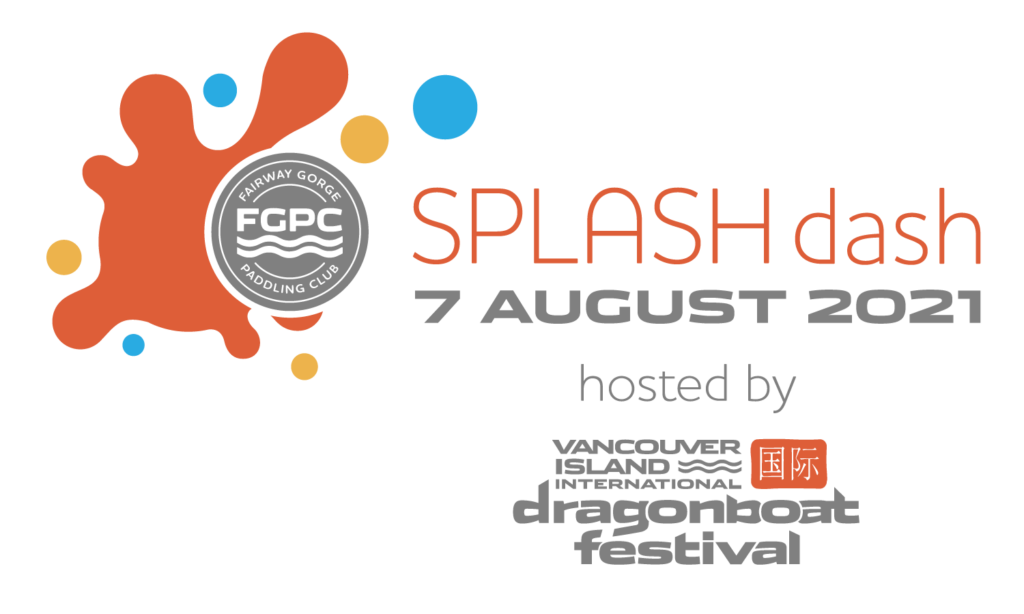 NEW: FGPC SplashDash
7 August, 2021 — The Vancouver Island Dragon Boat Festival is pleased to present FGPC SplashDash, a celebration of the return to paddling on the Gorge. In addition to live entertainment and cultural activities, the event will feature 250-metre paddle sport races, including dragon boating, on 7 August, 2021.
---
SplashDash is a day of entertainment, cultural celebration and multi-sport racing on the Gorge waterway. Teams and solo paddlers are invited to compete in 250-metre sprint Dashes that are sure to make a Splash! The SplashDash event is a mini-festival designed to celebrate our many paddle sports and the amazing people who love to participate in them.
SOLO BOATS: SUP, OC1, OC2, Kayak
CREW BOATS: DragonBoat, OC12, OC6
Solo and crew registration NOW OPEN. CLICK HERE to register.
Registration fees have been reduced to ensure that everyone can participate, with solo fees for OC1, kayak and other small boats kept to $25 per person. Crew boat fees (dragonboat and outrigger) are also reduced. DragonBoat teams that registered and paid for the 2021 Vancouver Island Dragon Boat Festival are invited to participate in the 2021 SplashDash at no charge; your registration fees will be held for the full VIDBF festival in August of 2022, with a complimentary zero-dollar enrolment in this year's SplashDash. Thank you!
---
Since FGPC opened in 2014, the club's race management team has provided more than 100,000 individual start-line experiences for paddlers from across Vancouver Island, the Pacific Northwest and beyond. We look forward to welcoming you once again at the SplashDash start-line on Saturday 7 August.
What comes next? In 2022, FGPC expects to run a full dragon boat and outrigger race season, including the Vancouver Island Dragon Boat Festival in early August of 2022 (teams can REGISTER EARLY (NO CHARGE) for the 2022 VIDBF by clicking HERE). FGPC's races and festivals will be held on Victoria's spectacular Gorge Waterway, one of the finest paddling venues in Canada, and home base of the Fairway Gorge Paddling Club and its associated services, including Waterfront Fitness and Waterfront Outfitters.
FGPC is a leader among Canadian paddling and sport organizations in COVID-19 compliance and mitigation strategies. Be kind, be calm, be safe.