Final Results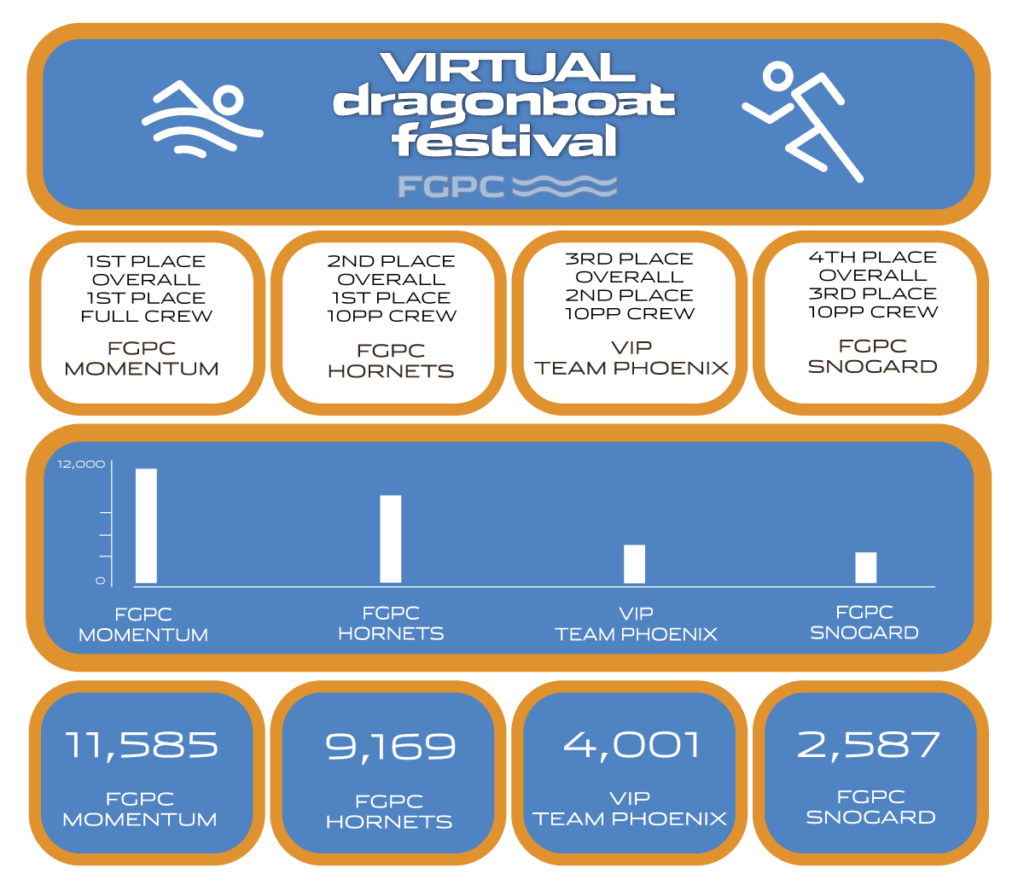 Visit our Team Pages
About the Virtual Dragon Boat Festival
Many teams are asking "what's a virtual dragon boat festival"? While we can't give the full details of the festival's "virtual race weekend" away (we'll be providing specific details to participating teams on Friday 7 August), we can provide you with some hints: there will be four point-collecting components to the event, none of which require specific geographic locations to win, and none of which require that competitors to be within 2 meters of each other. The four areas of competition include:
Cultural. Hint: among other cultural challenges, one challenge may require you to submit a collage of photographs, or a single physically distanced photograph, or some other visual display of your team's favourite independent restaurant or eatery in your region. If you select a photograph of your favourite eatery from the past, you must send a physically-distanced 2020 image of the same restaurant that highlights the distinction from previous years' relationship with that restaurant to your present experiences with it. Use your creativity!
Trivia. Hint: you'll be asked to submit multiple choice answers to skill-testing and factual questions about the sport of dragon boat racing; historical and contemporary questions will be included. We suggest you delegate questions to various team mates in advance to save time and submit your answers faster (submissions will be graded on accuracy and time-stamped for which teams completed the highest scores the most quickly!)
Physical. Hint: over the coming weeks, you'll receive more details about which physical activities can be delegated and combined by participating teams, and for how many points per "kilometer." Each physical challenge will be given a corresponding "kilometer" equivalent. Team mates can then work together (with physical distancing) or separately to achieve their mileage goals. The points matrix will be published no later than 31 July 2020, but rest assured, the following sports will be included: solo paddling (OC1, SUP, kayak); paddling and rowing ERGs; running (including treadmill), cycling (including stationary bike), climbing, swimming, weight lifting, stair climbing (including stair climbers).
Creative! Hint: bonus points will be awarded to teams who submit a creative representation of how their team is conducting themselves during Year 2020. This can be a performance, or a compilation, or a piece of art, or whatever creative, physically-distanced collage of videos or photos or team gesture you can come up with that captures your spirit. The resulting submission can be a movie file, animated file, or PDF or other still or serial digital file that does not exceed 120 seconds of "play" time.
In recognition of the dragon boat community's traditional support for our charity of choice over the August race weekend, extra points will be awarded to teams who participate in a pledge drive for BC Cancer. FGPC will provide teams with pledge drive access before the race weekend start date.
The virtual festival entry donation is $100 for 10-person crews ($10 per person) or $150 for 20-person crews ($7.50 per person) to cover off the event's technological costs as well as costs to ship medals to winning participants. Winners will receive commemorative 2020 gold, silver and bronze medals or corresponding lapel pins.
Now that registration is closed, we'll work with registered teams to get your roster set up and provide all the details and hints for preparation over the weeks ahead…in time for an exciting weekend from 7-9 August!
Virtual Paddles Up!