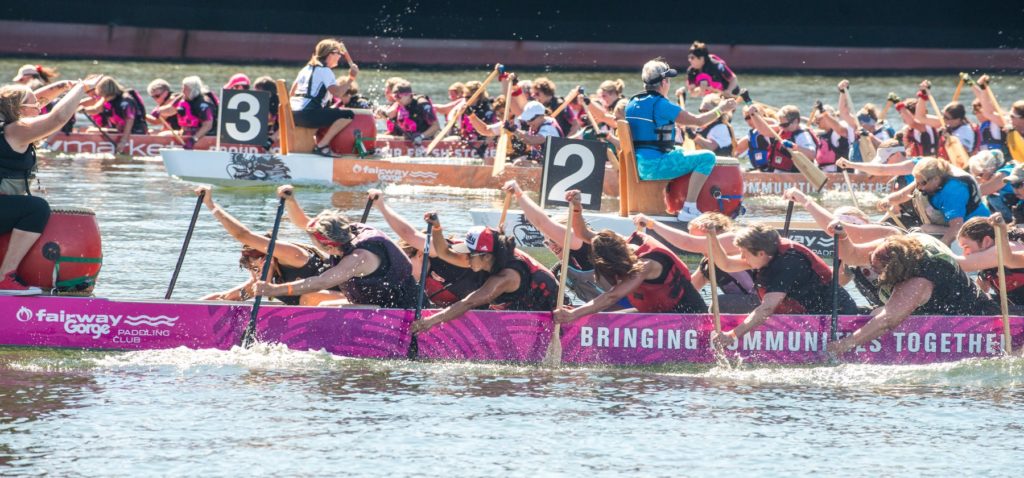 Our Mission: Bringing Communities Together Through Paddling
The Fairway Gorge Paddling Club brings people together as individuals, teams, and businesses by sharing our passion for paddling.
Dragon boat and outrigger training are great ways for companies and organizations to build teamwork and community. Paddling builds friendships, confidence and mental, emotional and physical fitness.
Each year we bring thousands of people together for training, races and events on the beautiful waterways of Victoria.
FGPC's programs are focussed on three program pillars: train (our gym and coached water programs), play (our kids camps and school programs) and compete (our many racing programs).
We are proud of our role in our community, and we strive to help bring people together – as individuals, as teams, as businesses and as families. Join us to help us bring communities together through paddling and athletics.
Who we are and what we do
The Fairway Gorge Paddling Club (FGPC) is based on the Gorge waterway in Victoria's spectacular harbour network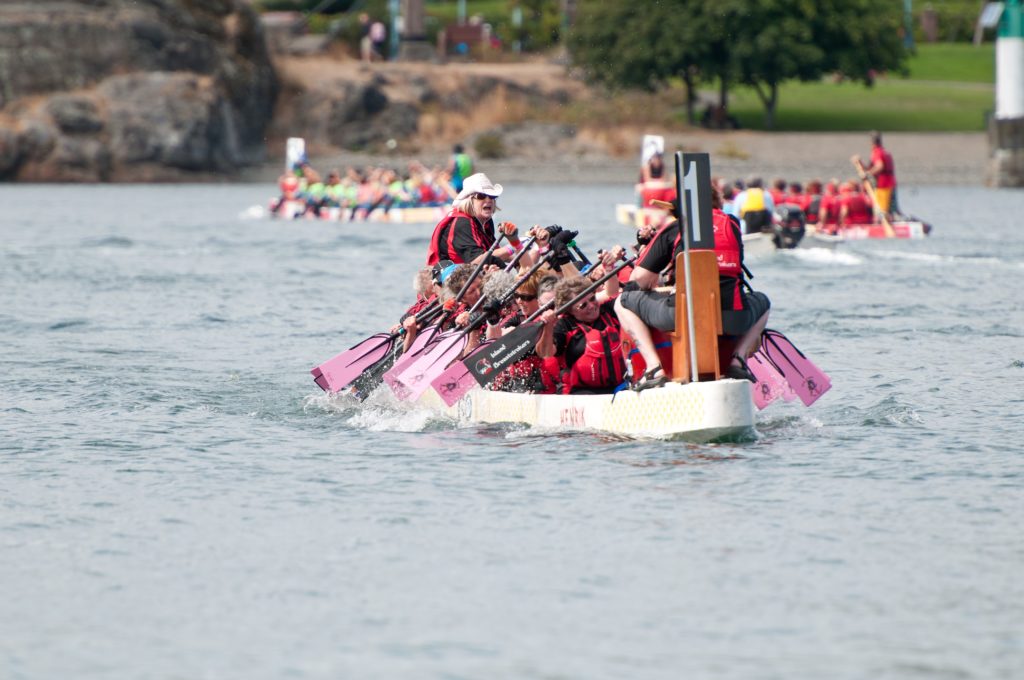 We are a community sports and recreation organization that focuses on our mission of bringing people together through paddling.
FGPC has a deep commitment to the paddling community and the larger community of Vancouver Island. The organization and its members and visitors have raised thousands of dollars for men's health as well as cancer treatment and research through the BC Cancer Foundation.
Dragon boating is an inclusive sport, and FGPC is proud to coach and support youth and senior teams, and teams associated with breast cancer survivors, multiple sclerosis and vision impairment. FGPC also revamped many of its programs to be safe and relevant during the COVID-19 pandemic, improving the quality of life for many athletes. You can read of our members' pandemic experiences here. 
FGPC's race management division has hosted regattas involving thousands of paddlers since 2014, with annual local events in the waters just outside our club, as well as dragon boat regattas in Nanaimo, Victoria, Duncan, Comox and elsewhere. FGPC is also the producer of the new Vancouver Island Dragon Boat Festival, a festival planned for Aug. 26-27, 2023, on Victoria's Gorge waterway.
Our Three Program Pillars: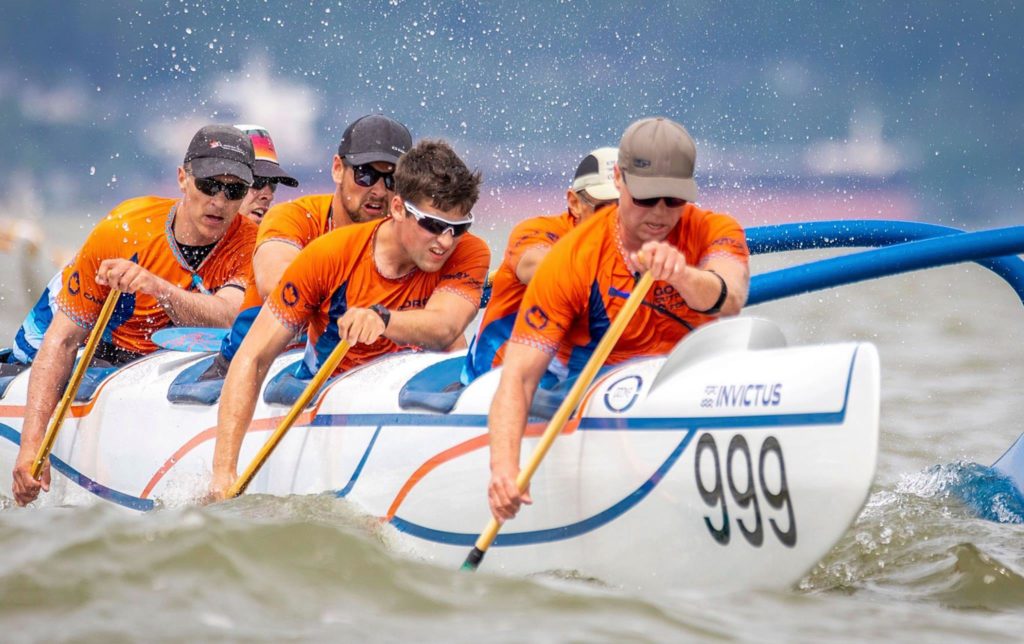 As mentioned above, the Fairway Gorge Paddling Club is dedicated to the following four pillars:
Train:
Selkirk Waterfront Fitness Centre: FGPC owns and operates the Selkirk Waterfront Fitness Centre. Located on Victoria's gorgeous Gorge waterway, the gym is open to community members and paddlers alike, although only through our Extraordinary Access Programs at this time. Subject to COVID-19, Waterfront fitness has group programs, strength training, cardio equipment, weights and weight machines. Before COVID-19, we offered yoga and spin classes and multiple other programs, which we will resume when it is safe to do so. Meanwhile, besides offering a safe place to work out, we are also offering online fitness classes, including personal training.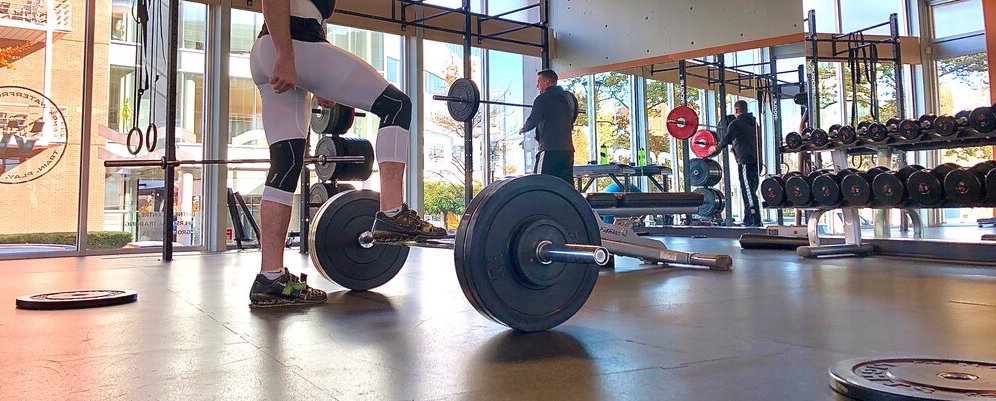 Coached programs: FGPC offers coached paddling programs in Victoria for outrigger canoe and dragon boating. Although paddling in crew boats is temporarily curtailed due to COVID-19, FGPC has many recreational and competitive dragon boat teams, as well as various coached outrigger canoe programs in solo and six-person boats, catering to novice paddlers, intermediate paddlers and advanced competitive paddlers.
Play
Kayak and SUP memberships: Members of the community are welcomed to apply here for a monthly subscription-based Access Program to kayaks and SUPs.
3 Compete:
Our history with Fairway Markets