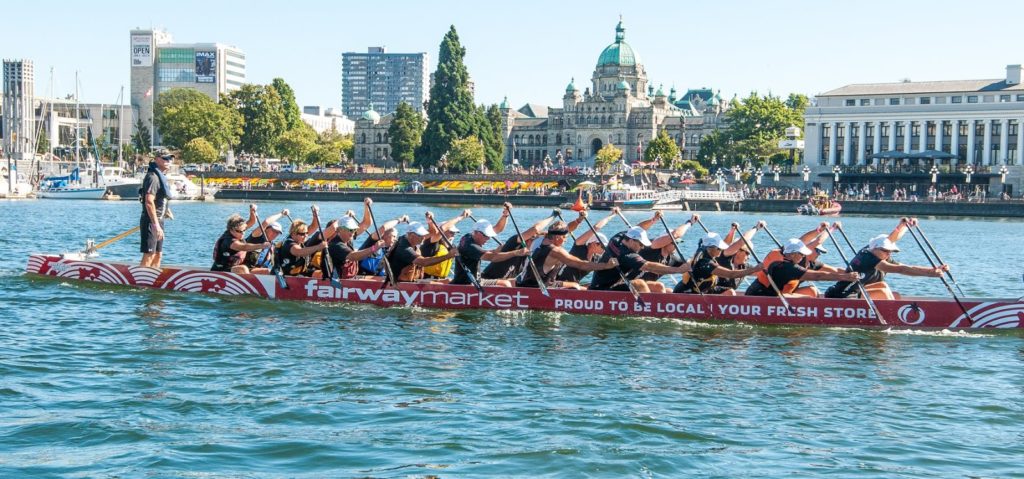 Dragon boating is the world's fastest growing sport. It traces its roots back thousands of years, but only came to Canada during Expo '86 when the government of Hong Kong gifted six teak (wooden) dragon boats.
Canada's first dragon boat festival was held in Vancouver after Expo '86, a hugely popular World's Fair located at False Creek that showcased transportation and communication.
Interest in the sport immediately boomed, with new clubs being established in Victoria, across Canada and around the world. In fact, there are now 50 million dragon boat paddlers training across every continent around the globe.
Part of the sport's attraction is its rich and fabled history reaching back more than 2,500 years ago in southern China as part of rituals and celebrations of the summer solstice, summer rice planting, and other important events.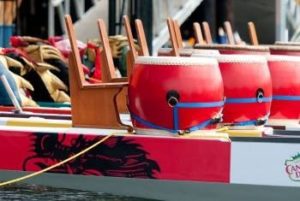 Dragons, the only mythical animal in the Chinese zodiac, are traditionally believed to be the rulers of water: rivers, lakes, seas and even clouds, mists, and rains. In China, traditional dragon boat racing coincides with the fifth day of the fifth Chinese lunar month, which varies from late May to late June in modern calendars.
Around the world, dragon boat festivals pay homage to these important traditions, and in many places, including Victoria, important races include the ritual Awakening of the Dragon, which involves using red paint to dot the eyes of a carved dragon head affixed to a boat, ending its slumber and reenergizing its spirit.
Of course, paddling in Canada has also been around for thousands of years with all sorts of watercraft, ranging from massive dug-out canoes paddled by skilled First Nations mariners on the west coast, to birchbark canoes later used by European explorers, settlers and traders, to skin-clad Inuit kayaks and hundreds of other superb vessels.
---
---
The Fairway Gorge Paddling Club is located on Victoria's upper harbour along the Gorge waterway, a 7-kilometre stretch of largely protected water that runs from downtown Victoria to the shores of Portage Inlet. The waterway is filled with a unique mix of shipyards, harbour ferries, private boats, marinas, light industry, reversing falls and abundant wildlife. It is not uncommon to see great blue herons, harbour seals, river otters, deer and all sorts of waterfowl in a single outing.
While dragon boating is generally restricted to the middle and upper harbours and the Gorge waterway to reversing falls, the Gorge is also the gateway to Victoria's vibrant inner harbour, where FGPC club members can paddle a variety of outrigger canoes, kayaks and SUPs past an array of seaplanes, marinas, work and pleasure boats, float home villages, coast guard ships, cruise ships and more. Advanced outrigger paddlers venture past the harbour mouth and deep into the strait of Juan de Fuca, sometimes travelling 20 kilometres or more in a single session. (FGPC will also resume renting kayaks and SUPs to drop-in visitors once COVID-19 safety measures permit; meanwhile, community members are welcomed to apply here for our monthly subscription-based Extraordinary Access Program.)
---
---
Part of dragon boating's surge in popularity in Victoria and around the world has to do with the sport's inclusiveness, and once again, British Columbia was on the forefront of that.
In 1996, Don McKenzie, a sports medicine specialist at the University of British Columbia, started a dragon boat team for women with a history of breast cancer as he believed that dragon boat paddling would aid breast cancer survivors both physically and socially through teamwork and strenuous upper body activity. Two years later he released a study about the Abreast in a Boat project, which concluded that the sport promoted health, raised breast cancer awareness, improved quality of life, and offered a message of hope, support and encouragement for women to lead full and active lives.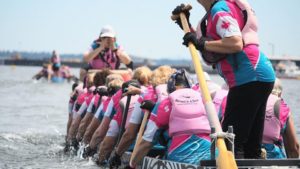 The movement has since grown to more than 230 breast cancer teams in 30 countries around the world, and as of September, 2019, 17 of them were based in BC and five are based on Vancouver Island.
In addition to breast cancer survivors, dragon boating also has teams with athletes dealing with multiple sclerosis, vision impairment, mental health issues, para-athletes and more, subject only to a paddler's desire to be on the water and the ability to find or organize a team and find a boat. FGPC, for example, has the Staying Alive Dragon Boat team, which is composed of paddlers who have survived cancer; Outta Sight, a dragon boat team with blind and visually impaired paddlers, and MS Warriors, a dragon boat team with paddlers who have multiple sclerosis.
FGPC paddlers range from complete novices to athletes who have competed on Canada's national dragon boat teams in world competitions and in world-level international outrigger races in places such as Washington State, California, Hawaii, Tahiti, Cook Islands and elsewhere.
Fairway Gorge Paddling Club is home to the Chinook Paddling Club, which is singularly focused on Sprint Kayak, offering expert coaching to youth paddlers ranging from recreationalists to competitors at provincial, national and international levels, and those who aspire to be Olympians.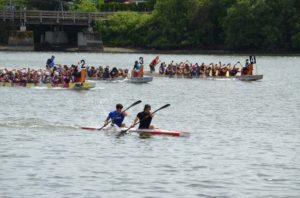 Paddling at our Selkirk Community facility in Victoria, B.C., began more than 20 years ago through the resources and hard work of the GO Rowing & Paddling Association of Canada. In 2014, the newly formed Fairway Gorge Paddling Club Society assumed operational responsibilities for the facility in order to ensure that training, recreational and competitive opportunities would continue, and expand dragon boat, outrigger, kayak and SUP opportunities in Greater Victoria and Vancouver Island. Growth at the club has been significant, and we now have 13 dragon boats serving 24 teams.
The club has had a real impact on dragon boating in Canada, developing and manufacturing the famed Millennium dragon boat, and serving as a research and development centre for other dragon boat and outrigger innovations.
The Fairway Gorge Paddling Club Society was inspired by the generosity and commitment to paddle sports within the Fairway Markets company. Fairway Markets remains the club's chief sponsor.
Since inception, the Fairway Gorge Paddling Club has hosted nearly a 100 dragon boat races with thousands of local and visiting athletes and an estimated 10,000 race starts. Members of the club's race management team routinely host multiple festivals in various Vancouver Island communities.
Although COVID-19 has temporarily disrupted dragon boat paddling, Fairway Gorge Paddling Club's dragon boaters of all ages and abilities have taken to kayaks, SUPs and solo outrigger canoes in anticipation of dragon boating resuming sometime in 2021.
The club management's COVID-19 mitigation strategies and boat sterilization techniques, as well as continual, careful and mindful compliance with provincial health orders, has so far meant that our paddlers have remained on the water in one form or another for much of the pandemic.
---
---
The club's management team is planning to make history, once again, by launching the new Victoria-based Vancouver Island Dragon Boat Festival from Aug. 6 – 8, 2021, subject to restrictions due to COVID-19.
Yes, dragon boating is a sport with a deep and profound history, and it may be just the thing for you, your family or someone you know. Please visit fgpaddle.com regularly for information on new opportunities on how to get on the water, and when the time is right, consider giving dragon boating a try.
There are many reasons why it's the globe's fastest growing sport.