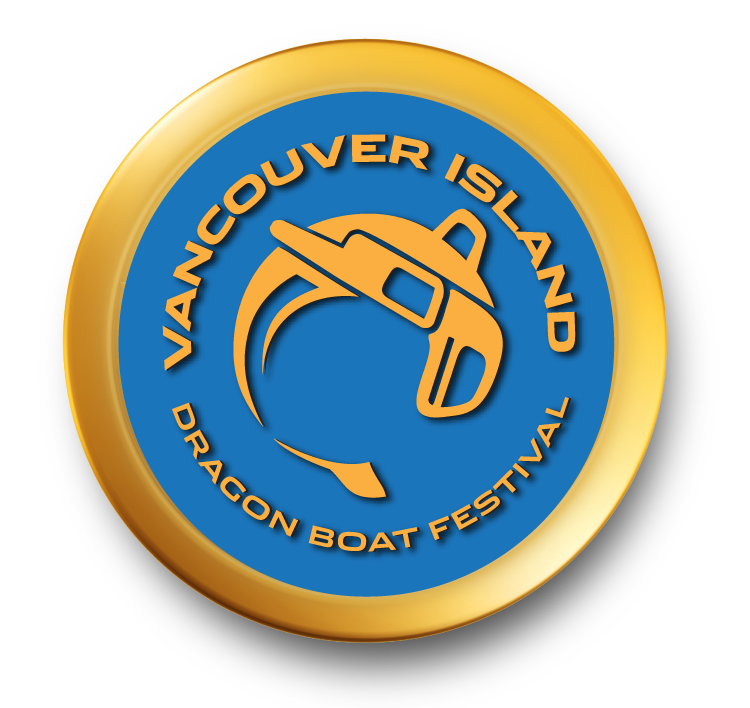 VANCOUVER ISLAND
INTERNATIONAL DRAGON BOAT
FESTIVAL ~ 500M
6-7 August 2022
Location: Fairway Gorge Paddling Club, 2940 Jutland Road, Victoria BC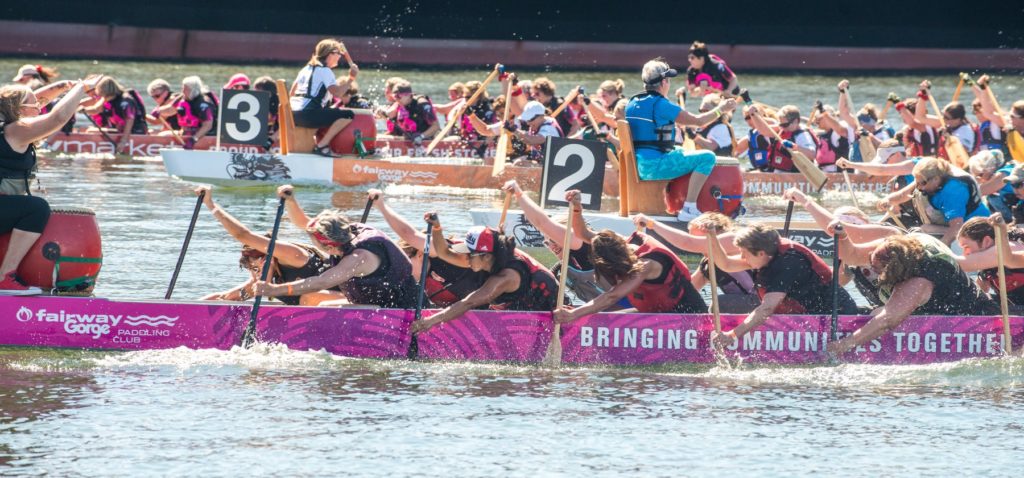 Menu
---
Location: Fairway Gorge Paddling Club, 2940 Jutland Road, Victoria BC
The Vancouver Island Dragon Boat Festival combines the best that Victoria has to offer – the best race venue, the most-experienced race management team on Vancouver Island, the largest fleet of dragon boats on the island, and a full line-up of entertainment, food, family activities and dragon boat cultural events.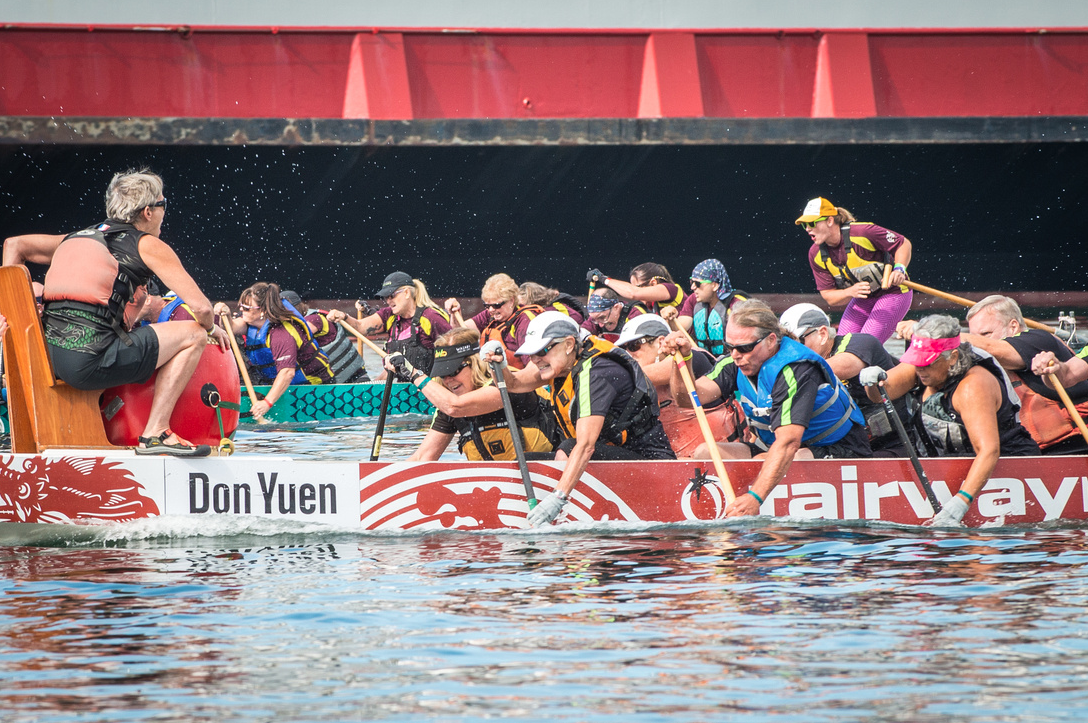 On August 5-7, 2022, the Vancouver Island Dragon Boat Festival will be held on the Gorge Waterway along Victoria's spectacular harbour system. This exciting weekend of racing draws on the Fairway Gorge Paddling Club's experience running many of Vancouver Island's signature dragon boat festivals, along with innovations garnered through the hands-on experiences of FGPC's production team at race venues around the world. The 2022 VIDBF will challenge local, regional and international teams across competitive and recreational divisions over a number of exciting formats, including:
Competitive and recreational championships with cash prizes for 1st, 2nd and 3rd-place finishes in women's, mixed and open divisions
Inaugural medals
Racing on a true 500m race course in Vancouver Island-designed "Millennium" dragon boats
Guts-&-Glory 1500m races for women's and mixed teams
Challenge races for senior teams (55+) on the same race course as the BC 55+ Games in September
Site-wide cultural, entertainment and amenities, including international foods, stage performances and family-oriented amusements
Registration Fees:

Early Bird (up to May 1st): $1200 including GST, a $400 savings
Regular (after May 1st): $1600 including GST
---
We can all win with FGPC's 'Make Every Second Count Campaign' for BC Cancer
Through the Vancouver Island Dragon Boat Race Series' "Make Every Second Count BC Cancer Campaign", teams can "add speed" by shaving off one-second from their total time in special championship heats for every $1,000 raised. Click here for more information.
---
Race Course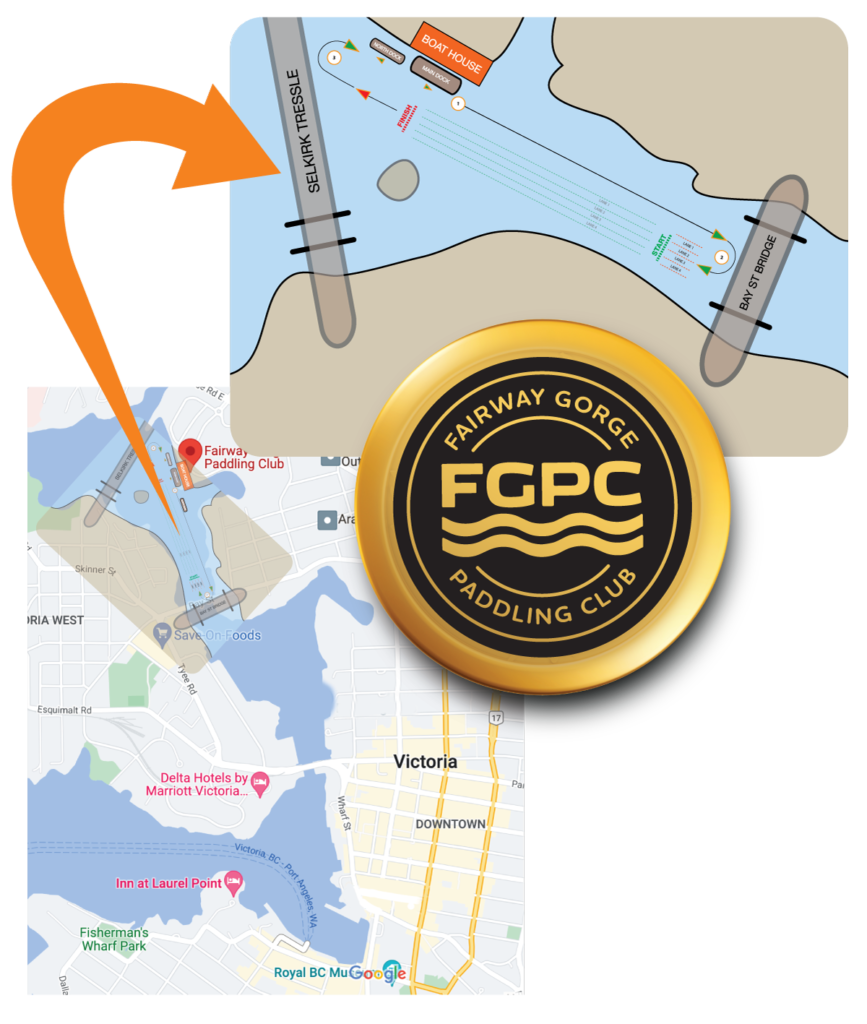 Our race course is located on Victoria's beautiful Gorge waterway, where each year – even through the COVID-19 pandemic – the club enables thousands of people to paddle, race, train and experience dragon boating, outrigger canoeing, kayaking, stand-up paddle boarding and more.
At the Fairway Gorge Paddling Club, we are dedicated to the growth and development of paddle sport races. We have hosted hundreds of events with thousands of individual race experiences over the last 15 years.
Our race management team is hosting five major dragon boat events on Vancouver Island in 2022, including the Vancouver Island Dragon Boat Festival.
FGPC is also the organizer for dragon boat events for the BC 55+ Games, to be held in Victoria at our club on September 13 – 17, 2022.
Come join us! We hope to see you soon.
---
Paddlers' Village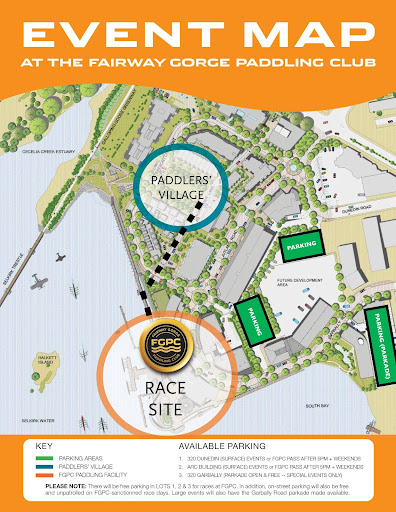 Just moments away from our world-class race venue, our paddlers' village features food, entertainment and a grassy area to set up team tents, hold warm ups and get your crews race ready.
Our state-of-the art sound system keeps racers informed of the day's progress, ensuring that staging and race starts are seamlessly smooth.
Food? Yes! Entertainment? Yes! It's all here at our Selkirk Green facility.
---
Race Management
FGPC has a team of more than 50 dedicated staff, coaches and fitness instructors who run programs, races, events and other services for the following operations:
Fairway Gorge Paddling Club
Selkirk Waterfront Fitness Centre
Waterfront Outfitters
Vancouver Island Dragon Boat Race Series, with races in Victoria, Nanaimo and Comox.
We have produced hundreds of festivals since our inception in 2014 with more than 100,000 race starts. If you've seen a dragon boat festival anywhere on Vancouver Island, it's likely we've produced it.
---
Entertainment
You'll love the racing, and you'll love the fun as well! Enjoy live entertainment at our amazing paddlers' village at Selkirk Green Park. Just a two-minute walk from the race site, this grassed oasis is at the heart of our community. Dragon boat teams enjoy the walk, using it as part of their warm-up so they arrive at our ocean-side staging area ready to race (and win!).
lək̓ʷəŋən Traditional Dancers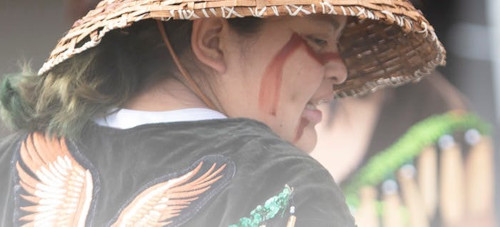 The group is highly sought after to represent the Lək̓ʷəŋən people at significant events throughout the region. They have performed to welcome visiting royalty, the Lieutenant Governor and the Prime Minister, Mayor and Councils and many others. One of their favourite performances is to greet Indigenous people from around the world.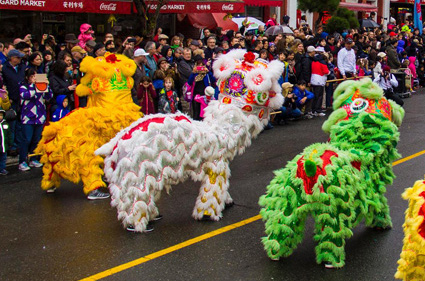 Wong Sheung Hung Fut Kung Fu Club
We are the only club in Canada to teach this left-handed style of Kung Fu and it is our goal to promote and ensure the continuity of this style of martial art in Canada. We also teach the Lion Dance, which we have performed in and around Victoria. Our lions have been invited to help celebrate many civic and community events as well as to welcome dignitaries from all around the world.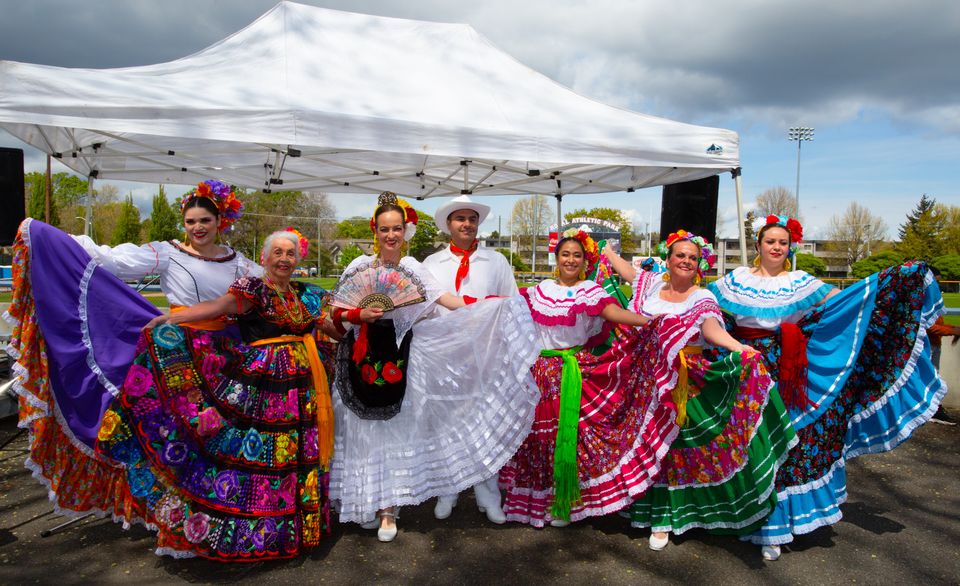 Fiesta Latina
Fiesta Latina BFV is a Mexican/ Latin Folklore Dance Group, that likes to share culture through the art of dance.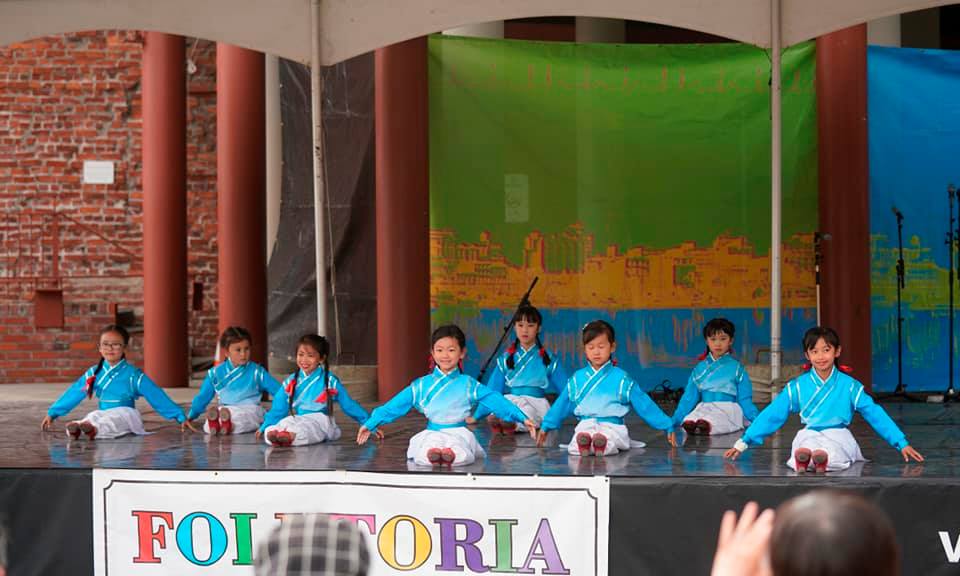 Lin Hua Dance
Chinese Dance performance.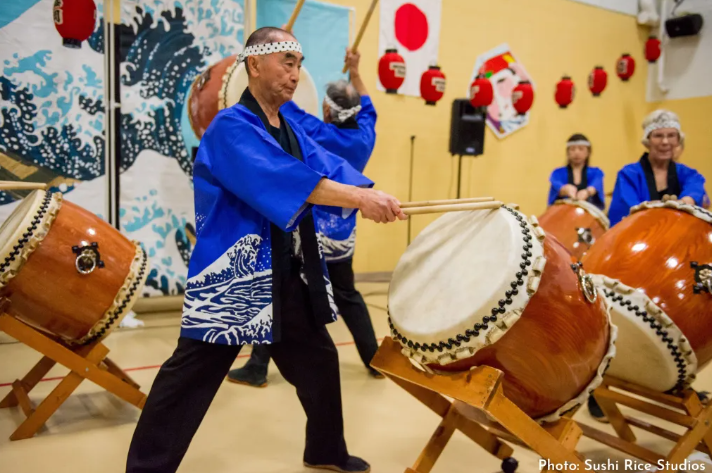 Uminari Taiko
Uminari Taiko is a non-profit, community-focused drumming collective based in Victoria, British Columbia. We perform regularly in Victoria and around Vancouver Island at schools, festivals and private functions and also share the joy of taiko drumming through classes and workshops.
Uminari can be translated to "roaring sea"—the sound of waves crashing onto rocky shores and the silences in between. It captures the essence of taiko and the windy, wave-swept conditions which are common on parts of our island.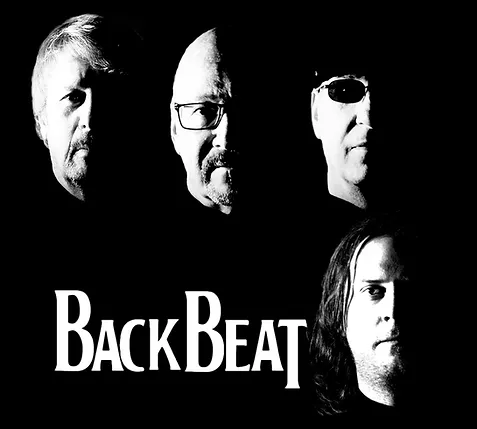 Back Beat
BACKBEAT is four mates from Victoria, BC. Four pretty fab guys who live and breathe the most exciting decade in music history. The boys have been thrilling audiences since 1988 with their loving and most authentic musical tribute to the 60's.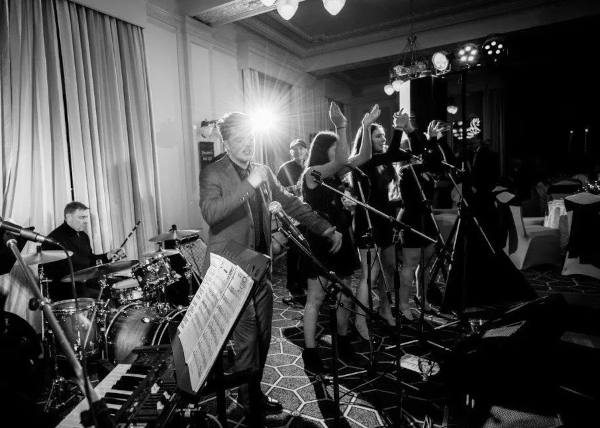 Midnights
The Midnights are an exciting LIVE 12 piece choreographed R&B band located in Victoria BC. The band consists of some of Canada's finest professional musicians and exceptional young talent from the Victoria High School Rhythm and Blues Band. It is a formidable combination, ideal for creating the perfect musical experience.
---
Waterfront Outfitters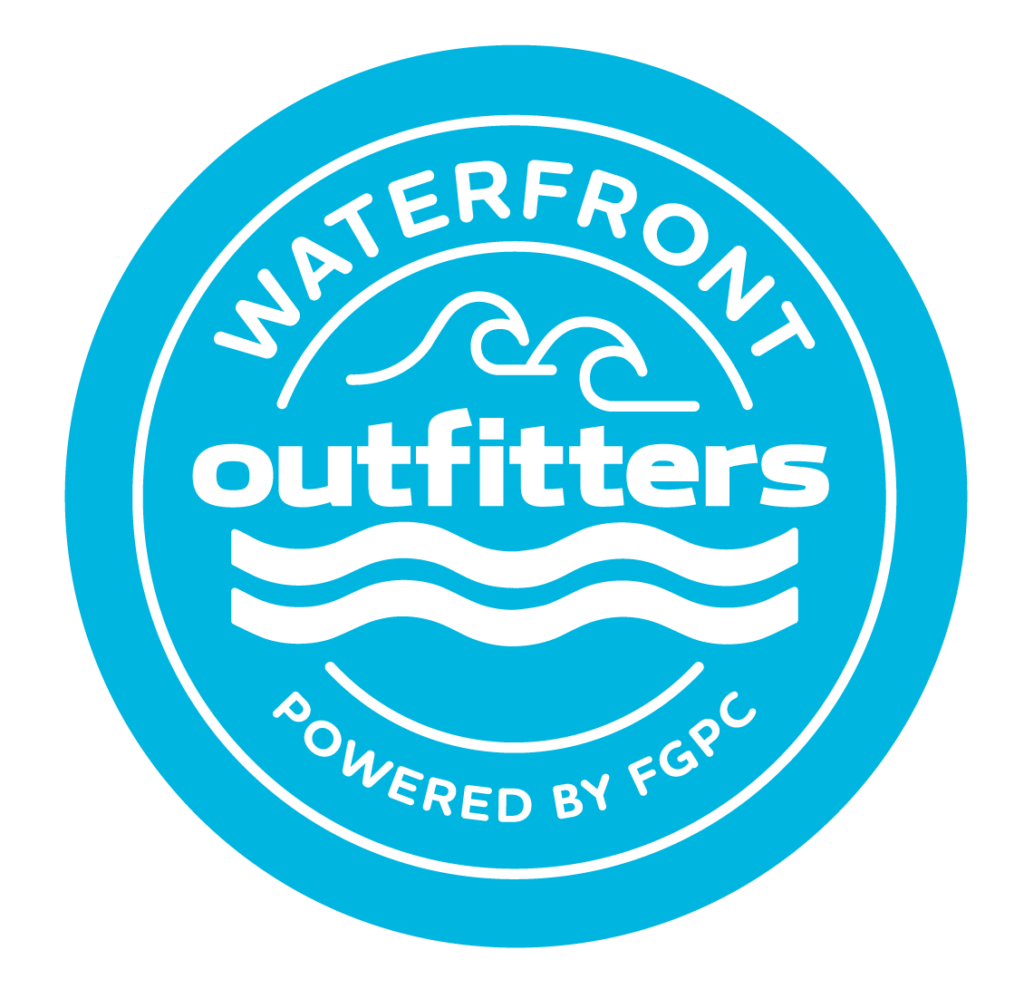 Looking for a competitive advantage, either in racing or training? You'll probably want to visit our retail store, Waterfront Outfitters. All of our gear – and we have hundreds of items – are staff-tested and club approved. Our store, located at 2940 Jutland Road, is full of paddling gear, life jackets, paddles, lights, clothing and other goods for those who love being on the water.
We also have gifts, jewelry and other products for sale – perfect for anyone looking for an ocean-themed gift. Our gear is used by our coaches and paddlers, and ready for the rigors of our sport.
---
Accommodations
The Vancouver Island Dragon Boat Festival has made arrangements for preferred rates. Please mention the Festival when booking. Click here for rates. Discounts will be available for the Harbour Ferries that will take you directly from the inner harbour to the race site.
August 5-8, 2022
12 rooms with 2 queen beds @ $309 plus tax per room per night
2 night minimum stay
45 day cut off – reservation will need to be prepaid at this time (non-refundable)
GROUP ID 6132266
For reservations: 1-800-663-0298 and quote GROUP ID 6132266 "Fairway Gorge Paddling"
2 night minimum stay Release date and prepayment: June 21
August 5-8, 2022
12 rooms with 2 queen beds @ $339 plus tax per room per night
2 night minimum stay
45 day cut off – reservation will need to be prepaid at this time (non-refundable)
GROUP ID 6132285
For reservations: 1-800-997-6797 and quote GROUP ID 6132285 "Fairway Gorge Paddling"
2 night minimum stay Release date and prepayment: June 21
12 minute walk to race site
Discounted rate for all paddlers
For reservations call 1-800-434-8835 and quote discount code of RG10
---
Amenities
Although we think dragon boat racing at our race venue is the ultimate spectator sport, there are plenty of activities your family and friends may want to consider while you're ripping up the race course.
The Fairway Gorge Paddling Club is located right next to the Selkirk Trestle, which is part of the gorgeous Galloping Goose cycling/pedestrian network. Trail-goers can walk or ride a little over two kilometres from our race site to the heart of downtown Victoria, to enjoy all it has to offer, from stunning scenery, amazing food, to whale watching tours and much, much more.
Greater Victoria's Galloping Goose and Lochside Regional Trails are an excellent option for enjoying the great outdoors. This well maintained network of trails, which is part of the Trans-Canada Trail system, extends from Swartz Bay at the top of the Saanich Peninsula just north of Sidney through downtown Victoria and then east out to Sooke, together covering 88 kilometres (54.6 miles), mostly running through beautiful west coast scenery.
Friends and supporters may also consider hopping aboard Victoria's amazing harbour ferry network (Victoria Harbour Ferries is a sponsor of our events!), to travel in style and cormfort to downtown, historic Chinatown, Fishermen's wharf or elsewhere in the harbour network. https://map.victoriaharbourferry.com/
---
Sponsors and Community
The Fairway Gorge Paddling Club is dedicated to safety, quality and the highest standards of professionalism. We are dedicated to supporting dragon boating and supporting paddlers throughout Vancouver Island, our province, our country and beyond. That's why we're so happy to introduce in 2022 the new Vancouver Island Dragon Boat Festival.
FGPC has a deep commitment to the paddling community throughout Canada, with paddlers and paddling teams visiting the club from not only Greater Victoria, but British Columbia, Alberta, elsewhere in Canada, the USA and further abroad. The organization has raised thousands of dollars for cancer treatment and research, and has hosted online COVID-compliant outrigger paddling events in 2021 that attracted participants from across Canada, the U.S., the UK, Australia and New Zealand.
Dragon boating is an inclusive sport, and FGPC is proud to have coached and supported youth and senior teams, and teams associated with cancer survivors, multiple sclerosis and vision impairment. FGPC also adapted many of its programs to be safe and relevant during the COVID-19 pandemic, improving the quality of life through access to sport for many athletes.
FGPC's race management division has hosted hundreds of regattas involving thousands of paddlers since 2014, with dozens of annual local events in our local waters, as well as regattas in Nanaimo, Victoria, Cowichan, Comox and elsewhere.
We gratefully acknowledge our many club sponsors, who are as committed as we are to enhancing our communities.
Please click here for a complete listing of our sponsors and community supports.
---