The 2020/2021 years have required careful monitoring and successive event cancellations. In an effort to provide paddlers and teams with future certainty, FGPC has scheduled and secured dates for events, races and festivals in 2021 and 2022. Indeed, no-charge advance registration for FGPC-managed races is now OPEN.
Teams are encouraged to register early for races, without payment, in order to hold your places for our 2021/2022 festivals.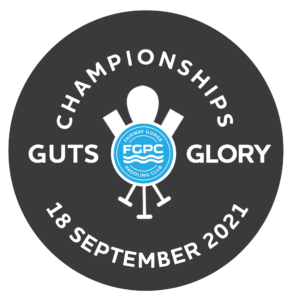 FGPC GUTS-&-GLORY CHAMPIONSHIPS
18 September 2021 (Saturday)
Outrigger and Dragon Boat Races ~ 1000M Straightshot Qualifiers / 1500M Oval Finals / Doublestart Championship Rounds
This unique day of racing provides crew boat racers (in dragonboats, OC6s and OC12s) with opportunities to test their endurance and entertain spectators.
Registration is NOW OPEN for teams who ready to race crewboats in the following formats. Note that all boats are supplied by FGPC, including Millennium dragonboats, ultralight OC6s and Advantage-hulled OC12s.
Morning (9AM): 1000-meter straightshot racing from Point Hope Shipyards to FGPC's standard Halkett Island finish line.
Afternoon (12PM): 1500-meter oval racing will start in staggered format at FGPC, head north around Halkett Island, then south to Bay Bridge with buoyed turns around both bridge stanchions before returning north to the Halkett Island finish line.
End-of-day (4pm): championship finals will field the top six fastest crews in each hull category through a start-stop-start-finish sequence over 1000-meters, with the first start at FGPC, a turn around both stanchions of Bay Bridge, and a stop at the 750-meter mark followed by a held second start for the final 250 meters.
Team registrations for each of the three hull types are limited. Crews are encouraged to register early.
---
WETDASHE
FGPC V12
KAN-U-HAKIT
BROTCHIE REACH
BROTCHIE SMALL BOAT
WETDASHE
FGPC OFFERS OUTRIGGER PROGRAMS, clinics and events for novice, recreational and competitive paddlers. Please call or email to register. The fall/winter season runs from 1 September to 31 March and the summer season runs from 1 April through 30 August. Browse our programs and register today.