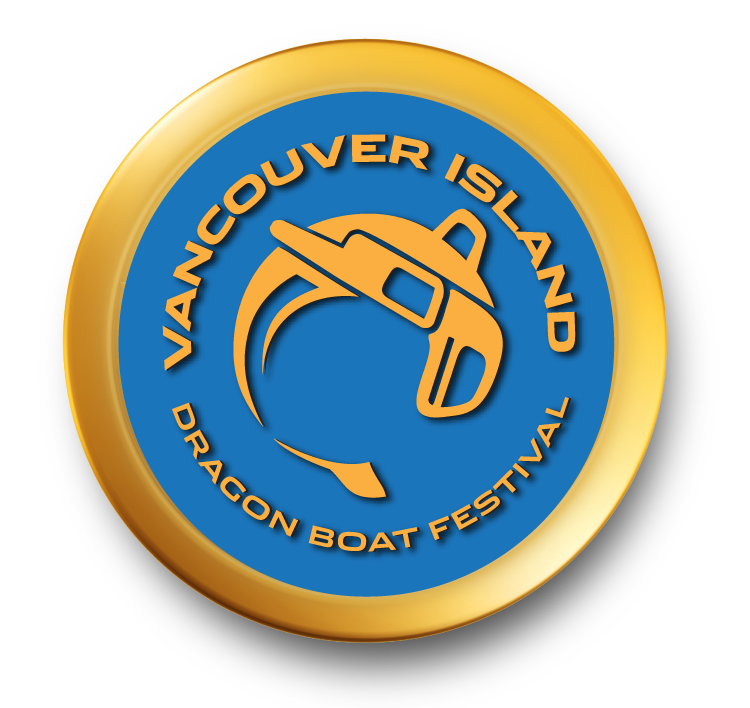 Location: Fairway Gorge Paddling Club, 2940 Jutland Road, Victoria BC
August 24-25, 2024
---
Welcome | Registration for 2024 | 2023 Race Results | Volunteers | Team Check-in | Race Course | Paddlers' Village | Race Management | Accommodations | Waterfront Outfitters | Amenities | Parking | Sponsors and Community
---
Welcome to the 2024 Vancouver Island Dragon Boat Festival
The Vancouver Island Dragon Boat Festival combines the best that Victoria has to offer – a great race venue, an experienced race management team, and a full line-up of entertainment, food, family activities and dragon boat cultural events.

2022 photo credits: Ian Faris
The event's unique selection of race formats will challenge recreational and competitive teams alike: A "pentathlon" format: a cumulative weekend of racing: 500m, 200m, 100m, our famous flag relay, and a show-stopper guts and glory followed by a final 500 for the top 3 finishing women's and mixed teams.
The 2024 VIDBF will entertain, challenge and delight local, regional and visiting teams across competitive and recreational divisions with a number of paddler-centered innovations, including:
Our "pentathlon" format: a cumulative weekend of racing: 500m, 200m, 100m, our famous flag relay, and a show-stopper guts and glory followed by a final 500 for the top 3 finishing women's and mixed teams.
All participating teams — with the exception of the top three women's and mixed teams — will be awarded medals based on their cumulative final ranking, based on B, C, D, E, F (and so on) cumulative standings in progressions of gold, silver and bronze. In other words, after removing the top 3 finishing teams in each division (women's and mixed), all teams will be awarded from fastest cumulative times through slowest in sequences of gold, silver, bronze (Rank B) followed by gold, silver and bronze (Rank C), and so on until all teams have received medals.
The top three womens and mixed teams will compete for placement in an A final: first past the finish line will win A-final Gold, second past the finish line will receive A-final Silver, and third will win Bronze.
Site-wide cultural, entertainment and amenities, including international foods, stage performances and family-oriented amusements
Enhanced festival amenities including paddlers' village 10×10 tents for all teams (as well as club paddles and PFDs for athletes without personal equipment) in addition to Canadian Springs water on tap and plenty of parking and washroom facilities
Registration fees (including GST):

Early Bird (up to April 15): $1200 including GST
Regular (after April 15): $1600 including GST
---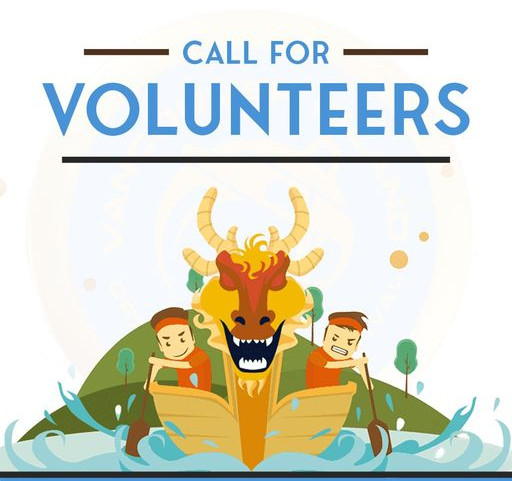 Here's your chance to be a part of the Vancouver Island Dragon Boat Festival on Aug. 24 – 25, 2024 at the Fairway Gorge Paddling Club!
We're looking for site maintenance or help on our docks during the event.
Shifts are 8am – 12pm, 12pm – 4pm, and 4pm to 8pm (Sunday only).
Registration for volunteers will open in the Spring of 2024.
---
Team Check In & Wristbands
Team Check-in:
Only the team manager or captain may check in the team. Remember to bring confirmation of any outstanding online waivers (printout of email confirmation or electronic copy viewable on smartphone or tablet) for any additions to your roster made after the roster documents have been locked.
Wristbands: 
Once your team is checked in (which means all roster entries and associated waivers are verified) wristbands will be given out.
Wristbands must be worn for the entire weekend — they cannot be removed and put back on and are not replaceable. Without a wristband, team members will not be allowed to compete in any race.
---
Join a "Stew" crew for the Vancouver Island Dragon Boat Festival
Your crew is not attending the Festival but you still want to compete? YOU'RE INVITED!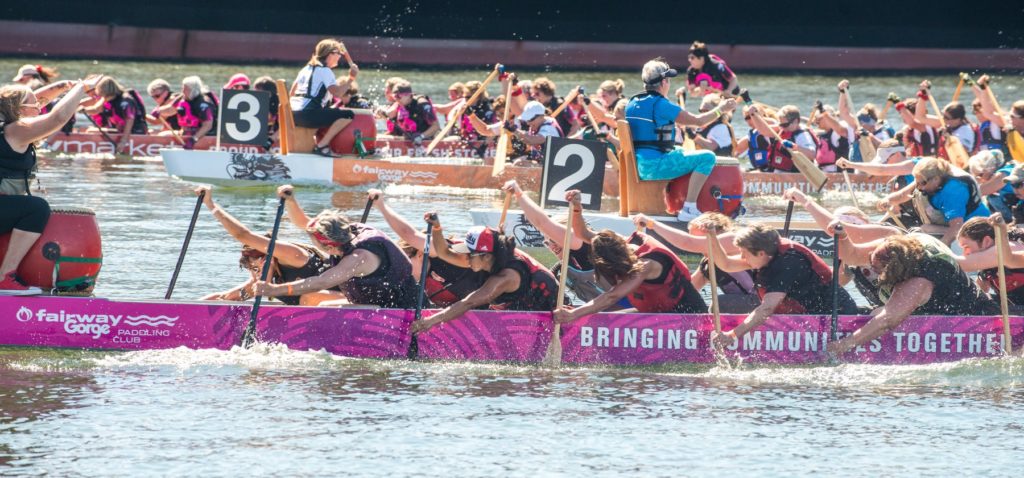 This year, we're offering solo paddlers the opportunity to participate in professionally-managed stew teams for our Vancouver Island Dragon Boat Festival. Individual paddlers can register for an $80 fee (which includes everything set out below) and provide FGPC's race management staff with your gender, preferred side and approximate weight and years of experience. Once submitted, you'll be placed in a festival stew team, with an optional practice on the Friday afternoon of the race weekend. That's right: one practice! FGPC will also provide staff sterns and drummers for each team (both mixed and women's teams).
If you don't have a team going to this unique and challenging festival, register as a solo paddler today. We'll place you immediately and keep you informed of your stew team's progress along the way. You can invite friends too.
Here's what you can expect from participating in the Vancouver Island Dragon Boat Festival in beautiful Victoria BC:
an stew team practice on Friday afternoon at FGPC, located on Victoria's Gorge Waterway for those able to attend
a supplied team tent in the event's beautiful paddlers' village, along with spare paddles and PFDs if you don't have your own
a full day of races on Saturday: 500m x 1; 200m x 1; and 100m x 1
a full day of races on Sunday: FGPC's famous flag relay; a 1500m guts and glory race; and for the top 3 finishing teams in women's and mixed divisions: a grand final
medals will be awarded for cumulative placement for all participating teams
Click here to register as a solo paddler
---
Race Course
Our race course is located on Victoria's Gorge waterway, where each year thousands of people can paddle, race, train and experience dragon boating, outrigger canoeing, kayaking, stand-up paddle boarding and more.
At the Fairway Gorge Paddling Club, we are dedicated to the growth and development of paddle sports. Our race management team is hosting three dragon boat events on Vancouver Island in 2024, including the Vancouver Island Dragon Boat Festival.
Come join us! We hope to see you soon.
---
Paddlers' Village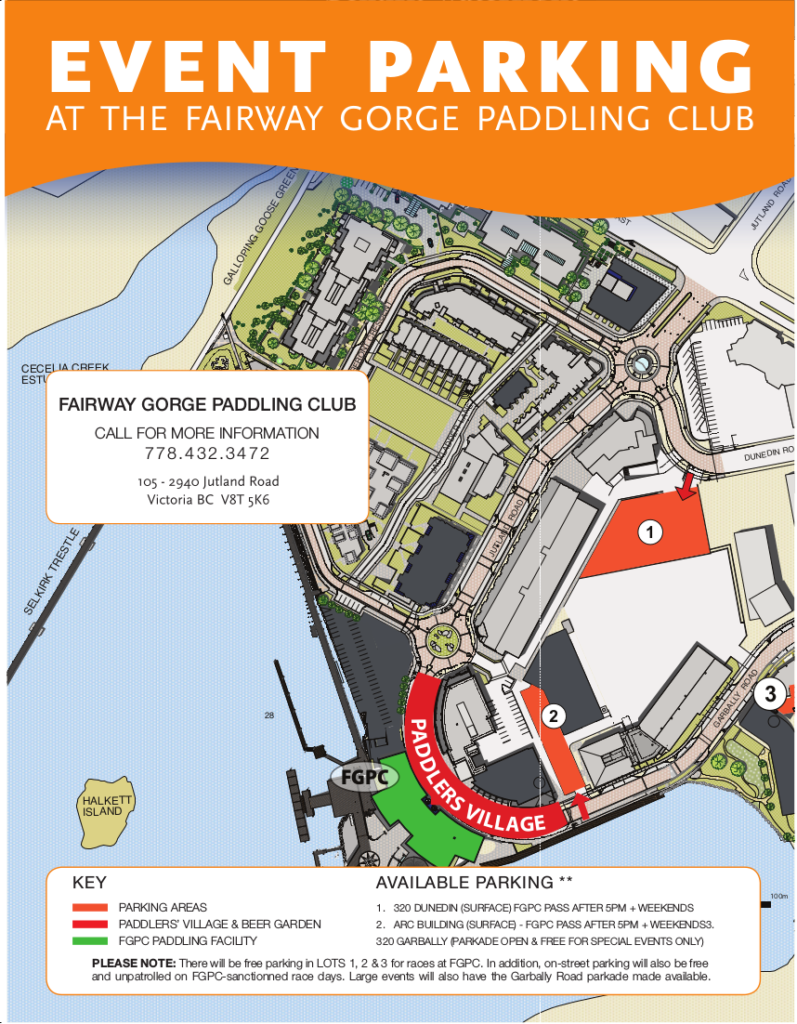 VIDBF's paddlers' village will run on either side of Jutland Road adjacent to FGPC's facility at 2940 Jutland Road. Tents are pre-assigned and tent numbers will be provided to team captains when they check in. Teams must locate themselves at their assigned tent number and location for the purposes of marshaling and safety. Note that security staff will patrol the race site and Paddlers' Village after-hours, but the tent area is not fenced or secure. Paddlers should not leave valuables and personal items unattended. FGPC is not responsible for lost or stolen items.
Location: Refer to Map for location of Paddlers' Village and event parking
Canadian Springs water coolers will be available in the Paddlers' Village area and at locations around the event site. Please bring reusable water bottles.
Paddlers are encouraged to bring their own paddles and PFDs, but a limited quantity of "club" equipment will be available for racing. Note: FGPC-provided PFDs and paddles must be returned by paddlers after every race. Club-supplied paddles and PFDs are not permitted in the Paddlers' Village.
---
Race Management
FGPC has a team of more than 50 dedicated staff, coaches and fitness instructors who run programs, races, events and other services for the following operations:
Fairway Gorge Paddling Club
Selkirk Waterfront Fitness Centre
Waterfront Outfitters
Vancouver Island Dragon Boat Race Series, with races in Victoria and Nanaimo.
We have hosted island-based festivals since our inception in 2014.
.
---
Food Trucks and Retail Vendors at the Festival
We will be adding this information as the event approaches.
---
We'll have great entertainment on site all weekend
---
Parking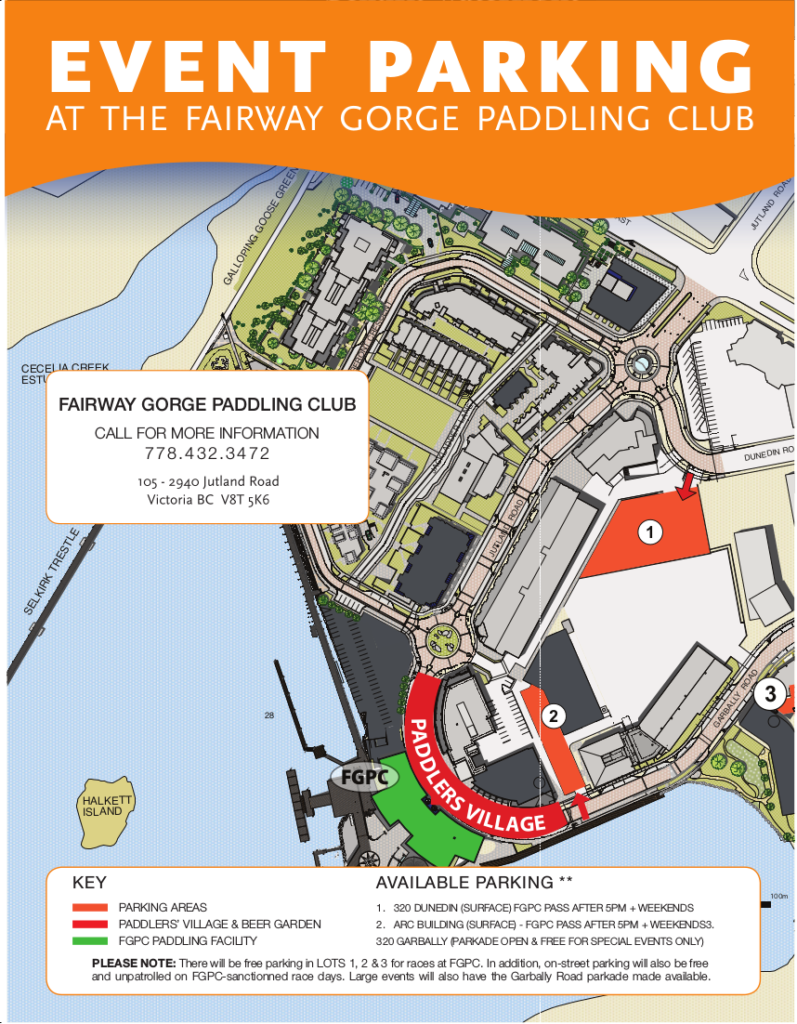 Limited parking is available. Everyone is encouraged to use public transportation, bike, walk, or carpool as paid and no-charge surface parking is limited in the Selkirk area. A parkade has been made available to festival participants for both race days, and we welcome paddlers to take advantage of this free, secure parking. The location of the free-for-the-festival parkade is: 320 Garbally Road (on the same street as Paddlers' Village). Please work with your team to ensure vehicles are unloaded quickly and not left unattended as there is very limited space in the Paddlers' Village area. Unattended vehicles will be towed at the owner's expense. Note that street parking is not permitted within the Paddlers' Village zone, and is time-limited and enforced / ticketed on Saturday for vehicles parked for more than 1 or 2 hours (as marked) in the Selkirk community. Please make use of the free-to-paddlers parkade at 320 Garbally Road.
Location: Refer to Map for location of Paddlers' Village and event parking
Paddlers, spectators and supporters may want to use the Victoria Harbour Ferry system to travel to the race site from downtown.
---
Accommodations
Robin Hood Inn & Suites
Booking code RG10 to book the rooms
Robin Hood Inn & Suites
136 Gorge Road East
Victoria, BC
V9A 1L4, Canada
T: +1.250.388.4302
Front Desk Mobile: +1.250.885.8119
Hotel ZeD
https://www.hotelzed.com/ use promo code PADDLE
By Phone: 1-800-997-6797 and quote GROUP ID 6336790
All reservations are based on availability at time of booking
---
Waterfront Outfitters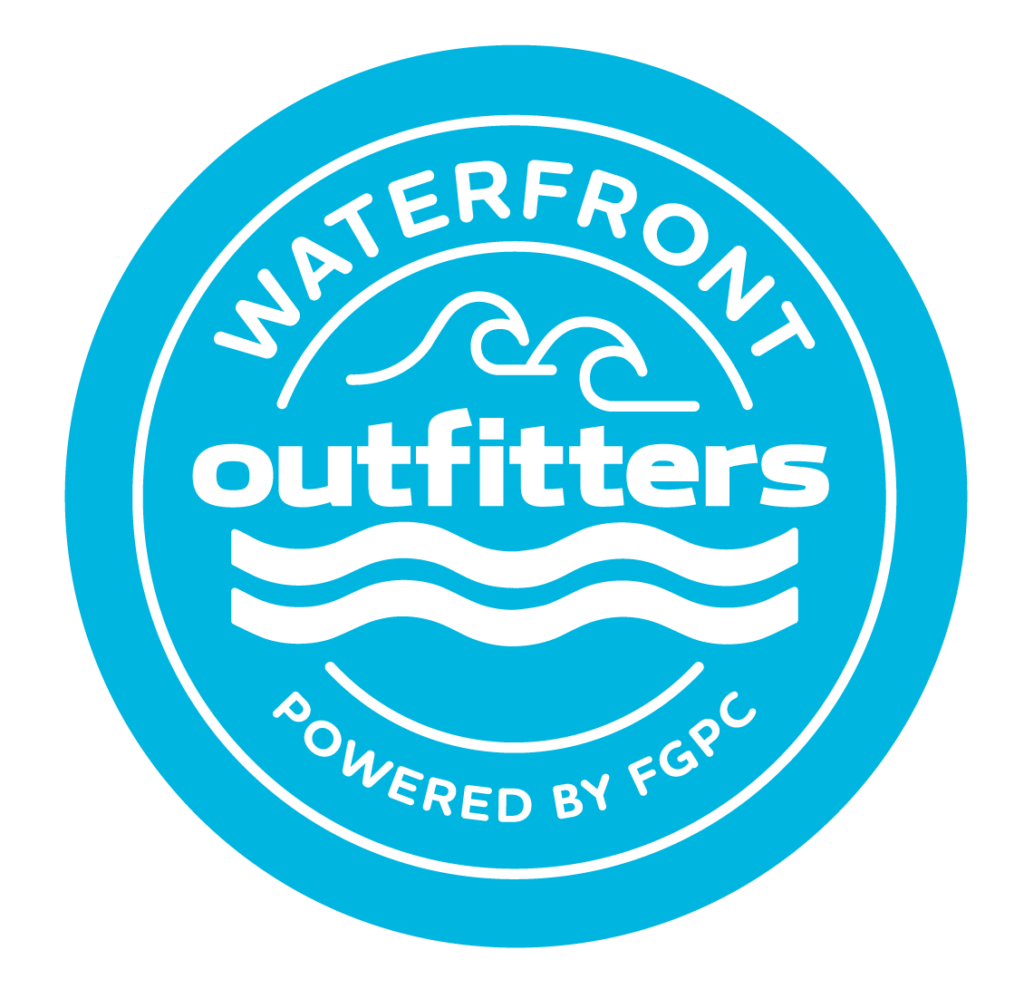 Looking for a competitive advantage, either in racing or training? You'll probably want to visit our retail store, Waterfront Outfitters. All of our gear – and we have hundreds of items – are staff-tested and club approved. Our store, located at 2940 Jutland Road, is full of paddling gear, life jackets, paddles, lights, clothing and other goods for those who love being on the water.
We also have gifts, jewelry and other products for sale – perfect for anyone looking for an ocean-themed gift. Our gear is used by our coaches and paddlers, and ready for the rigors of our sport.
---
Amenities
Although we think dragon boat racing at our race venue is the ultimate spectator sport, there are plenty of activities your family and friends may want to consider while you're ripping up the race course.
The Fairway Gorge Paddling Club is located right next to the Selkirk Trestle, which is part of the Galloping Goose cycling/pedestrian network. Trail-goers can walk or ride a little over two kilometres from our race site to the heart of downtown Victoria, to enjoy all it has to offer, from stunning scenery, amazing food, to whale watching tours and much, much more.
Greater Victoria's Galloping Goose and Lochside Regional Trails are an excellent option for enjoying the outdoors. This well maintained network of trails, which is part of the Trans-Canada Trail system, extends from Swartz Bay at the top of the Saanich Peninsula just north of Sidney through downtown Victoria and then east out to Sooke, together covering 88 kilometres (54.6 miles), mostly running through beautiful west coast scenery.
Friends and supporters may also consider hopping aboard Victoria's amazing harbour ferry network (Victoria Harbour Ferries is a sponsor of our events!), to travel in style and cormfort to downtown, historic Chinatown, Fishermen's wharf or elsewhere in the harbour network. https://map.victoriaharbourferry.com/
---
Sponsors and Community
The Fairway Gorge Paddling Club is dedicated to safety, quality and professionalism. We are dedicated to supporting dragon boating and supporting paddlers throughout Vancouver Island.
FGPC club and visiting athletes have raised thousands of dollars for cancer treatment and research, and the facility has hosted online COVID-compliant outrigger paddling events in 2021 that attracted participants from across Canada, the U.S., the UK, Australia and New Zealand.
Dragon boating is an inclusive sport, and FGPC is proud to have coached and supported youth and senior teams, and teams associated with cancer survivors, multiple sclerosis and vision impairment. FGPC also adapted many of its programs to be safe and relevant during the COVID-19 pandemic, improving the quality of life through access to sport for many athletes.
We gratefully acknowledge our many club sponsors, who are as committed as we are to enhancing our communities.
Please click here for a complete listing of our sponsors and community supports.
---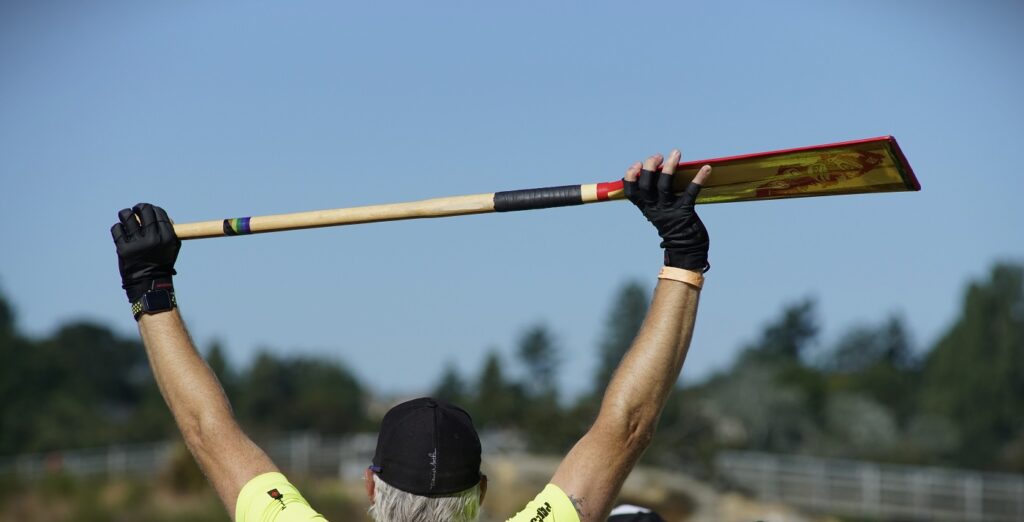 2022 photo credits: Ian Faris